Menus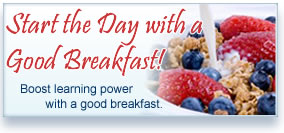 The School Nutrition Department ensures that healthy meals and/or snacks are always available to students, whether they are at school, off campus for a special activity, participating in a school program taking place outside the regular school day, or involved in some other special circumstance.
Our menus all meet, or exceed the strict District and USDA nutritional guidelines.

_____________________________________________________________________________
Breakfast in Class for Elementary Schools !!!
First Breakfast will be offered from 730AM to 8AM at Los Nietos Middle School Braves Cafe.
Breakfast In Class (BIC) will be offered to all classes at each elementary school. Students will be enjoying freshly prepared breakfasts in their classrooms with other classmates. A convenient, hassle-free option to get the day started.
Second Chance Breakfast (2CB) will be offered during morning recess or snack/brunch break. 2CB is effective for serving students who, due to family schedules or transportation issues, are not able to eat in the morning when school begins. 2CB is also effective for students who are not hungry first thing in the morning, but do get hungry before lunch. 2CB is one more option for Los Nietos School District to bring the benefits of breakfast to all students.
Los Nietos Middle School will have 2 breakfast options-First Breakfast and 2CB due to different class schedules.
Parents, please encourage your kids to participate in one of our breakfast programs.


_____________________________________________________________________________


_____________________________________________________________________________
Click arrows to scroll through months

Nutrition Info

Bagel Thins.pdf
Breakfast Bars.pdf
Breakfast Crackers.pdf
Cereral Bowls.pdf
Chicken Sausage Biscuit.pdf
Granola.pdf
Honey Buns.pdf
Oatmeal.pdf
Pancake Sticks.pdf
Sausage Hawaiin Roll .pdf
Sausage Roll.pdf
WG BV Muffins.pdf
WG Muffins.pdf
WG Tortilla.pdf
Yogurt.pdf